Back to overview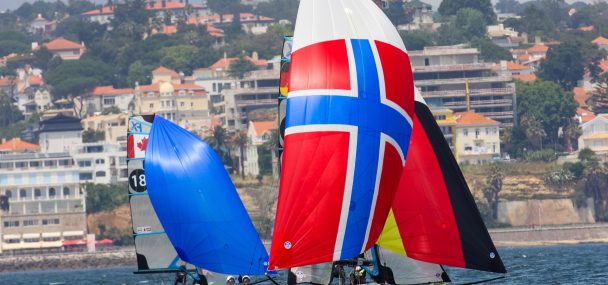 Dobson and Tidey (GBR) win in Cascais
After leading the championship since day one, Charlotte Dobson and Saskia Tidey from GBR bid farewell to Cascais from the highest place on the podium. Dobson and Tidey, after a less successful first race of the day, regained the breakneck pace having been runner up and a bullet on the last two fleet races. The British also took advantage of the momentum of the two previous races and went on to a win on the Medal Race ending the championship in a big way. Tamara Echegoyen and Paula Barceló maintained the second position they had occupied since the beginning of the event. The Norwegian pair of Helene Naess and Marie Ronningen closed the podium in this second event.
Cascais said goodbye to the Olympic 49erFx fleet in style. With three fleet regattas and a Medal Race completed today, the Olympic sailors were able to sail in different conditions in a single day. The first race, which was completed on the Guia Race area, with stronger wind conditions, at around 18 knots and with a wave of about one meter and a half. The second and third races of the day, in Cascais Bay, had more moderate winds around 15 knots and with some shifts. It was also within Cascais Bay that the ten best competitors attended the medal race.
In total, 5 continents were represented – North America, South America, Europe, Asia and Oceania – in a total of 19 nationalities sailed in Cascais. The championship took place in Cascais from the 7th to the 12th of June. 12 races were completed plus a Medal Race that counted double for the final overall. This was the last event before summer Olympic game that will happen in Tokyo this summer.
This championship was supported by Turismo de Portugal, Visit Cascais, Cascais Municiplaity, Portuguese Sailing Federation, Cascais Marina and Vista Alegre. We also have the institutional support of the non-governmental association Sailors For The Sea – Portugal. This NGO audited this event and gave a gold certificate for the sustainability measures that Clube Naval de Cascais held during the last week.
Results after 12 races and a Medal Race Race:https://www.cncascais.com/index.php?option=com_rib&view=item&id=1268&catid=2&Itemid=157&lang=pt#results