Back to overview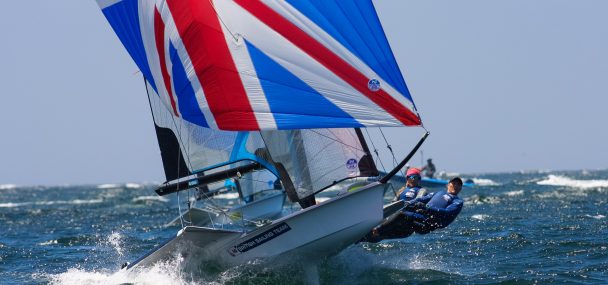 Dobson (GBR) holds lead - Echegoyen (ESP) and Grael (BRA) close gap
British Charlotte Dobson and Sakia Tidey continue in the lead although they lost punctual distance to the competition having made 7-12-3 today. In second place is the Spanish team Tamara Echegoyen and Paula Barcelo who after a fairly regular day, 5-5-2, consolidated second place and were two points from the highest place on the podium. Closing the podium, with another successful day, at 8 point from the leaders, was the team from Brazil made up of Martine Grael and Kahena Kunze after completing the day with a 4-1-4. The top places are starting to take shape but is no one game yet there are still three races and a Medal Race with double points to go.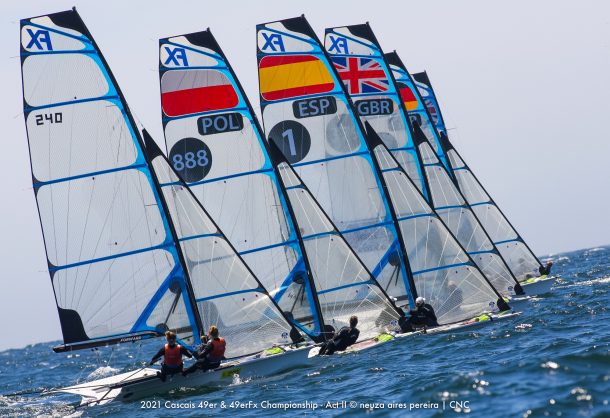 After the rest day, the 49erFx women's Olympic class fleet returned to sea in Cascais. With the first warning signal scheduled for 12:00, competitors had to wait ashore for the wind to settle in cascais in order to start the third day of the event. With the wind from the northwest quadrant and blowing around 14 knots around 12:30, the organization gave the green light for the start of the day and the competitors put their boats afloat shortly after to start the races at 13:20.
The organization chose to advance the schedule in Cascais with the intention of the Race Committee to complete 3 races in the morning on Friday and the Medal Race in the afternoon. The transition from the last race from Saturday to Friday is due to the fact that winds are expected to be too light for Saturday, jeopardizing the performance of this important race.
In total there are 5 continents represented – North America, South America, Europe, Asia and Oceania – in a total of 19 nationalities will sail in Cascais Bay. The championship takes place in Cascais from the 7th to the 12th of June. 12 races are scheduled plus a Medal Race that will count double points for the final overall.
This championship was supported by Turismo de Portugal, Visit Cascais, Cascais Municipality, Portuguese Sailing Federation, Cascais Marina and Vista Alegre. We also have the institutional support of the non-governmental association Sailors For The Sea – Portugal
Results after 6 races: https://www.cncascais.com/index.php?option=com_rib&view=item&id=1268&catid=2&Itemid=157&lang=pt#results