Back to overview
Frei & Rocherieux Crowned 49er European Champions
Peters and Fitzgerald are Youth World Champions
Theatre Style racing proved to be both exciting and promising. Matheiu Frei and Yann Rocherieux (FRA) sailed beautifully throughout the week and used the new format to their advantage to win the overall title. We caught up with them just across the finish line, after a quick douse of champagne, Rocherieux said, "We only made 1 mistake per day. Today it was the first race and then we said ´no, we won´t give up" and now we won." Second overall were Allan Norregaard and Anders Thomsen (DEN) who surprised the fleet all week with their twin trapezing technique, used even today during the Theatre Style short course. But the greatest and expert sailing of the day went to the Youth team of James Peters and Ed Fitzgerald (GBR) who finished in 3rd overall.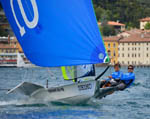 Frei & Rocherieux (FRA.)
Photo by Roberto Vuilleumier.
Peters, thrilled and a bit stunned by his performance said, "We managed to scrap through and win our group which meant we went into the top 8 and we sailed really consistently with no bad roundings or capsizing. Incredibly that meant we went into the top 4 and the Croatians had to do a 360 on the last mark and we came 3rd overall, and way surpassed our expectations so we´re really happy." He added, "I was nervous before every single start."