Back to overview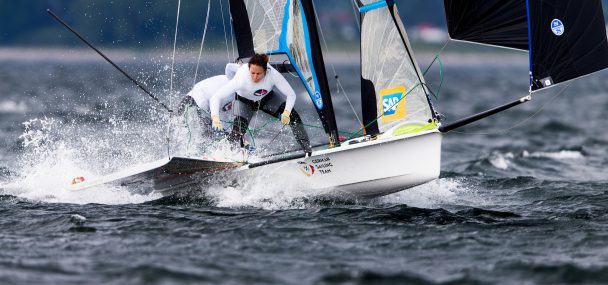 Kiel Week and the 49er Class to produce English Language Broadcast for 2019
The biggest regatta in on earth will be coming to you in English in 2019. For the past number of years, Kiel Week, the regatta and sailing festival that is unequalled the world over, has produced an excellent live broadcast of the racing. For 2019, via the 49er youtube channel, it will now also be available in English to viewers the world over.
"Kiel Week hosted the 49er and Nacra 17 classes for the European Championship in 2017. We see things the same way for promoting the best of Olympic sailing and Olympic sailors. With the common approach to Olympic sailing it was easy for us to link up again in another capacity," said 49er and Nacra 17 class president, Marcus Spillane.
Subscribe to the 49er youtube channel and get ready for the action. The preliminary broadcast schedule for Kieler Woche is:
June 26 11:30 – 12:45 Offshore Race Start 11:30
13:00 – 15:00 49er Men
June 27 12:00 – 14:30 49erFX Women
June 28 12:00 – 14:30 Nacra 17
June 29 12:00 – 14:30 49er Men
June 30 11:00 – 14:00 Medal Races for all Olympic Classes
"We have had a long-term strategy of promoting Olympic Sailing, Sailing in general, and our Sailing festival through a mix of traditional and progressive media. Our broadcasting in recent years has focused on the domestic German market, but we are excited to add an English language option for the worldwide sailing audience," said Organizing Director Dirk Ramhorst. We are excited to link up with the 49er Class on this project and continue to serve the sailors and sailing fans in as many ways as we can.
Kiel Week is a 9-day long sailing regatta and festival that is annually on the last full week of June. Half of the week is focused on select international classes and youth classes. The second half of the week is for Olympic classes. Alongside the regatta is a massive festival that is an annual highlight of the year for tens of thousands of visitors who join us in Kiel to enjoy the sailing lifestyle. Check out the full program.
The 49er Class is made up of both the 49er doublehanded men's skiff and 49erFX doublehanded women's skiff. The 49er Class has been live broadcasting much of our racing that matters since our Europeans in 2012.