Back to overview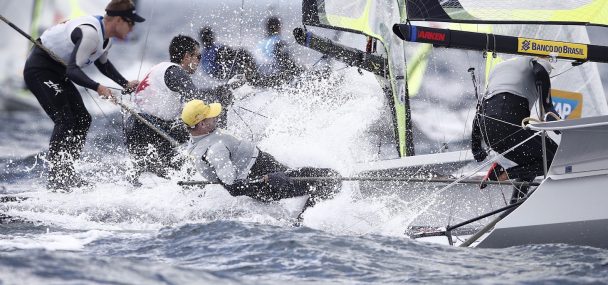 Blasting In The Sun On Day One Of European Championship
Strong but shifty winds of 10-25 knots across the Kieler Bucht provided a perfect start to the Olympic 49er and 49erFX European Championship today.  Four Qualifying races in the men's 49er fleet saw Team GBR's Dylan FLETCHER-SCOTT and Stuart BITHELL edge out the field by a point, while just ten points separate the top 17 boats at this early stage in the biggest continental championship of them all.
Several powerful thunderstorms kept the adrenaline working while huge windspeed fluctuations made accurate settings a moving target, as Aussie sailor Dave GILMOUR explained: "Finding the sweet spot was for the setting each race was a crap shoot, just had to hope for the best."
Surprising many with their strong performance despite their youth, GBR's Jack HAWKINS and Chris THOMAS burst onto the Kiel scene with a podium spot after four races.  Until recently members of the UK's Development Squad, they sit tied for second with Austrian 49er team Benjamin BILDSTEIN and David HUSSL.
Argentina's LANGE brothers – sons of Nacra 17 Gold Medalist Santiago Lange (Rio, 2017) – saw misfortune ruin a solid top-5 day.  Their collision with the WHITCRAFT brothers ended their racing thanks to a broken wing, and the resultant protest and redress hearing may change their current DNF later tonight.
Spain's top-ranked Olympic contenders Diego BOTIN and Iago LOPEZ sit well below expectations in 14th thanks to a UFD penalty; they'll have work to do tomorrow to get back to the kind of form that has many picking them as likely medalists in three years' time.
In the 49erFX, newly announced Volvo Ocean Race crew and Olympic bronze medalist Jena HANSEN and Katja IVERSEN continue their podium ways (Bronze medal, Rio 2016) with a 1-point lead after three Qualifying races in 8-20 knots of wind.  "It was strange on the water with the wind very up and down, but we kept our heads out of the boat and managed the course well so we're quite happy," said IVERSEN (Listen to a full interview with her here) The Danes sit with a 1-point lead over the Netherlands' BIEKERING and JANMAAT, while numerous ties mean plenty of potential for huge gains and losses as qualifying continues during tomorrow's scheduled 4-race day.
49er and 49erFX fleets will continue their schedule tomorrow while the Nacra 17 fleets (foiling and c-foil) begin their racing at 2 PM.  Weather forecasts call for more moderate to strong offshore winds.  That means variability, which should provide a tough test for the first-ever foiling Nacra 17 regatta.
Qualifying begins at 11am (Central European Time) starting with the 49er, followed by the 49er and Nacra 17 classes at 1400.
Please join us for the Adidas European Championship Morning Show, live on http://fb.com/49ersailing from 1100 CET/1000 GMT. Day Two's guests include Aruban FX sailors Odile Van Aanholt and Nicole Van Der Velden and Kiwi Nacra standout helmsman Gemma Jones (4th, Rio 2016) with crew Micah Wilkinson.
Please be sure to LIKE the Nacra17/49er/FX Facebook Pages (49er Sailing, Nacra 17 Sailing) for the best way to be notified of new photos, videos, and live streams from the European Championship.
If you love watching live racing, the real fun begins on Wednesday, when you can watch live streamed racing action from the water, complete with professional commentary, tracking, and much more.  You'll find the live notifications via our alerts if you sign up.
– http://49er.org/event/2017-european-championship/ – http://nacra17.org/events/2017-european-championship/ – Centralized site for interviews, photos, results, articles and other regatta documentation.
By Alan Block
LIVE VIDEO COVERAGE SCHEDULE:
-August 2 and 3 will see us covering gold fleet racing, with 20 boats for the 49er and 49erFX, and 24 boats for the Foiling Nacra 17. – August 4 will see us covering the finals. Each fleet will have 3 'theatre style' races to determine the European Champions. – Our live broadcast will have a drone camera, sideline camera, on board cameras, and a virtual environment. Combined with the best fleet racing our aim is to engage you with some spectacular, world-class sailing! Day 4, Day 5, Day 6 broadcasts are available for sign ups.
– Get to know the personalities behind the circuit and all the background to these Classes. – Hosted by sailing journalist and online personality Alan Block, we'll cover the future stars, the seasoned vets, and give you a preview of what's ahead for the day. – Live on facebook @49ersailing @nacra17sailing from 11am CET
– On days 4,5, and 6, follow along with the gold fleets via sapsailing.com. There will be live tracking, race replay, and SAP sailing analytics for all gold fleet and finals races.
– Spanish photographic house Sailing Energy will provide daily photo albums best viewed through the event websites or Class facebook pages.
YouTube, Facebook, Twitter, Instagram – @49ersailing – @nacra17sailing
Day 0 – Practice race and Opening Ceremony – July 29 Day 1 – Qualification for 49er and 49erFX, extra practice race for Nacra 17 – July 30 Days 2-3 – Qualification for 49er and 49erFX, Fleet Racing for Full Foiling and C-Board Nacra 17 – July 31-Aug 1 Day 4-5 – Gold Fleet for 49er and 49erFX, Fleet Racing for Full Foiling and C-Board Nacra 17 – Aug 2-3 Day 6 – Theatre Final for Foiling Nacra 17, 49er,and 49erFX – Aug 4