Back to overview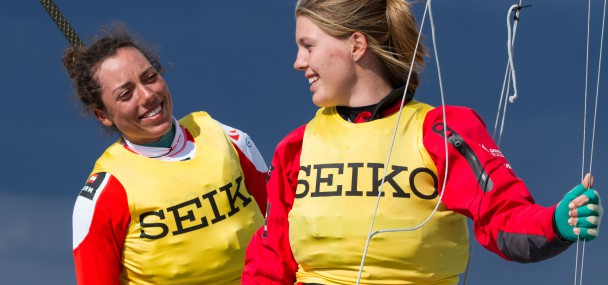 Guld & sølv til de danske sejlere ved 2014 J-VM i Aarhus
Dag 4 ved 49er Junior Verdensmesterskaberne var en todelt affære. Om morgenen havde man to normale sejladser for alle felter efterfulgt af en eftermiddag, hvor top 10 fra hver felt skulle sejle tre "theatre style" sejladser, som afslutningen på J-VM.
Aarhus leverede endnu engang en dag med ustabil vestenvind med 8-12 knob, hvilket blot var endnu en svær dag i ugen for U24 sejlerne. Mange af 49er grupperne var i starten fokuserede på at få en plads i top 10 finalen.
49erFX gruppen
I 49erFX gruppen så det ud som om at 2.-5.pladsen kunne true Ida Marie Baad Nielsen & Marie Thusgaard Olsens foreløbige førsteplads.
Om morgenen på finaledagen var det besluttet, at det første mixed/male 49erFX hold kunne deltage I finalesejladsen, selvom det oprindeligt kun var for rene pigebåde. To hollandske hold lå Ganske tæt med van Dijk & Hummel (NED) med 67 point og van Stekelenbourg & van der Werken (NED) med 69 point. Kun ét af holdene kunne tage Seiko urene med hjem! Efter første sejlads var rollerne dog byttet rundt, og nu var van Dijk & Hummel der skulle jagte landsmændene. Da vinden blev endnu mere ustabil, valgte man at droppe 11. sejlads og dermed afgjordes kapsejladsen på baggrund af 10 sejladser ud af 11 planlagte.
I front af 49erFX gruppen føjede Ida Marie Baad Nielsen & Marie Thusgaard Olsens endnu et par point til kontoen ved at vinde 10.sejlads, mens deres tætte rivaler endte som nummer 3 og 4. For præcis et år siden vandt pigerne det Europæiske Verdensmesterskab i 49erFX klassen i selv samme Aarhusbugt. Der var derfor ingen tvivl om at pigerne nærmede sig en sejr.
Kl. 13.00 drejede vinden i rigtig retning til stor glæde for sejlere og løbskomiteen. Banen var lagt ud og top 10 lå klar til at starte sejladsen. Da første sejlads blev sat i gang var det dog klart, at de gode vindforhold ikke ville forsætte. Vinden blev uregelmæssig, hvilket de hollandske Bekkring & Duetz var hurtige til at udnytte. Det bølgede frem og tilbage, men det lykkedes til sidst det hollandske hold at vinde, mens de danske rivaler sluttede sidst.
2. sejlads blev sat i gang, men blev dog hurtigt afblæst på grund af manglende vind. En række regnskyl og skyer drev vinden i cirkler. På trods af en tidsgrænse ved kl. 18.00 lykkedes det løbskomiteen at afvikle to hurtige sejladser. Ida Marie Baad Nielsen & Marie Thusgaard Olsen vandt anden sejlads i overbevisende stil og forsatte rækken af mesterskabstitler på hjemmebane. Bekkering & Blom endte på en 2.plads, mens Gorge søstrene fra Tyskland sluttede på 3. Pladsen. Se klip her o!
49er gruppen
I 49er gruppen var det en nervøs Paya & del Arco (ESP), der startede ved morgenens sejlads. Målet var at holde sig til deres rutiner, og det lykkedes dem dog også at holde Lübeck brødrene nede på en anden plads.
2. og 7. pladsen lå meget tæt kun adskilt af 16 point, og derved var der reelt seks hold, der kunne kæmpe om podiepladserne. Bildstein and Hussl (AUT) vandt 10. Sejlads, hvilket bragte dem op på en overordnet 3. plads. Dette var deres højeste placering indtil videre. Dave Mori & Justin Barnes (CAN) sneg sig også ind i finalen og sikrede sig "theatre style" sejladsen.
Med kun 30 minutter til kapsejladsens deadline kl. 18.00 gik 49erne på vandet for at kæmpe om mesterskabet. Vinden var bedre men forsat ustabil. Løbskomiteen havde dermed muligheden for at afvikle to af de planlagte tre sejladser. Botin & Turrado (ESP) dominerede sejladsen, mens Lübeck brødrene havde problemer i modsatte side af banen. Herefter blev vinden igen uregelmæssig, og man valgte til sidst at afblæse sejladsen. I sidste ende løb Paya & Del Arca med sejren, mens de danske Lübeck brødre bevarede anden pladsen.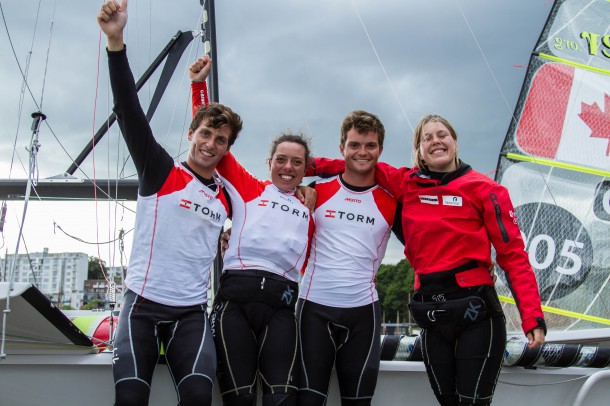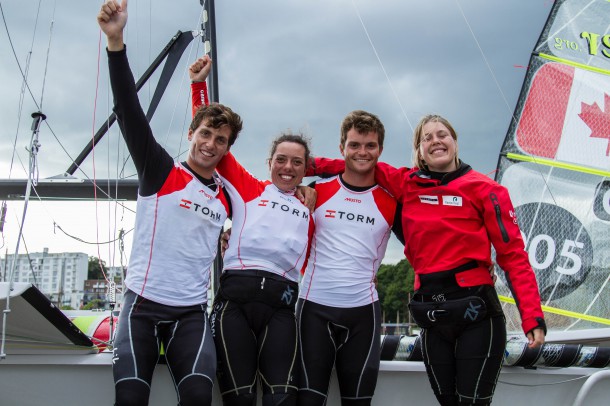 Hermed var dette punktummet for et Junior Verdensmesterskab med værdige vinder. Paya & Del Arco tog guld i 49er klassen mens Ida Marie Baad Nielsen & Marie Thusgaard Olsen vandt i 49erFX klassen. Vi ser frem til endnu flere kapsejladser i Aarhusbugten i fremtiden.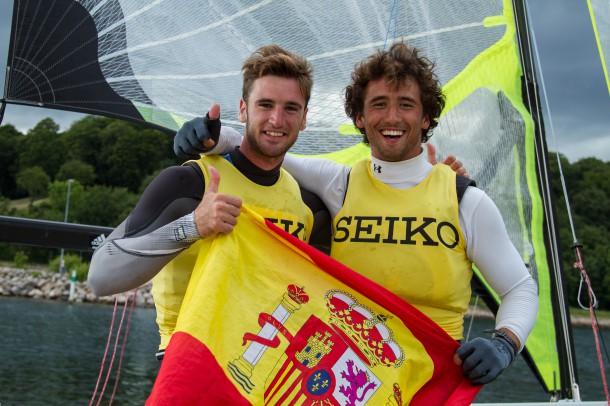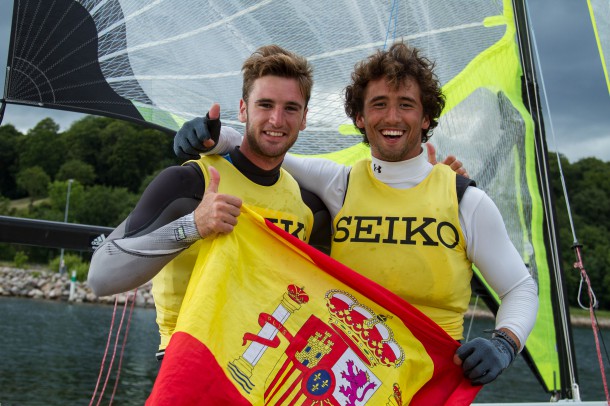 Næste sejlads for 49er og 49erFX er 2014 Seiko Europa mesterskabet i Helsinki, Finland fra 8-13 juli. Husk at se live transmissionen fra finalerne d. 13. juli og meld dig gerne på maillisten her for en påmindelse mailing list.
Følg 2014 SEIKO 49er og 49erFX Junior World Championship på www.sailing-aarhus.dk eller på Facebook
2014 SEIKO 49er og 49erFX J-VM arrangeres af Sejlklubben Bugten og Aarhus Sejlklub i samarbejde med Sailing Aarhus, Aarhus Kommune, Sport Aarhus Events og Sport Event Denmark og sponsoreres af SEIKO, Harboe Bryggeri, Böklunder, Pantaenius, Dinghy Shop Danmark og Key West.