Back to overview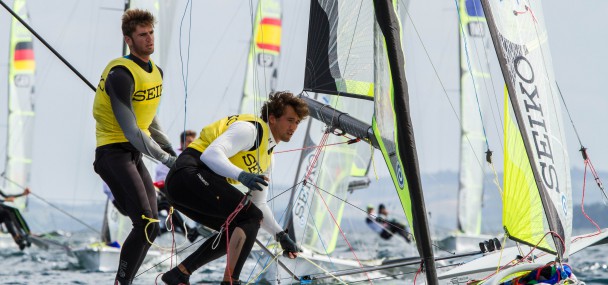 Knivskarpe spaniere i spidsen efter 3.dag
Efter to dage med vind fra skiftende retninger mente feltet, at dette var den mest udfordrende dag indtil videre. Løbskomiteen gjorde deres bedste for at få rykket sejladsen væk fra kysten, men det var ikke nok til at undgå blæsten helt. Det handlede derfor om, hvilke af disse verdensklasse U24 sejlere, der kunne håndtere netop disse vejrforhold.
At vælge den rigtige strategi i de givne vejrforhold var et stort diskussionsemne ved dagens sejlads. At træffe det rigtige valg er altid noget sejlerne stræber efter, men det er dog ikke altid ligeså nemt. Ida Marie Baad Nielsen og Marie Thusgaard Olsen (Nielsen & Olsen (DEN) forklarede, hvor vigtigt det var at vide, hvornår man skulle tage chancer, og hvornår man skulle være konservativ. Paya & Del Arco (ESP) fortalte ligeledes, at det var nødvendigt at være tålmodig fremfor aggressiv. Payne & Orton (GBR) talte om, hvordan de balancerede mellem både at udnytte skiftende vinde men også vindpust. Se alle interviews her.
Indtil videre har 49er og 49erFX gennemført 9 sejladser hver. Kl. 10.00 på kapsejladsens fjerde dag har klasserne først 2 normale sejladser, hvor begge guldfelter efterfølgende vil sejle I land og udrede eventuelle protester. Herefter vil top 10 i 49erFX klassen sejle 3 såkaldte "theatre style" kapsejladser kl. 14.00. Top 10 i 49er klassen vil derefter gå på vandet kl. 15.00 og ligeledes sejle 3 kapsejladser.
I toppen af 49ernes resultatliste finder vi Paya & Del Arco, som har formået at levere en stabil præstation i løbet af de seneste 2 dage på trods af skiftende vindforhold. En træner fra et rivaliserende hold udtaler, at det virker som om, at de formår at fange vinden godt omkring startlinjen, hvilket er en god mulighed, de kan vælge at udnytte. Dette er en både svær og værdifuld evne.
De lokale helte, Lübeck-brødrene, har sejlet sig i en rigtig god position med en overordnet anden plads. Som danske 49er sejlere er der høje forventninger at leve op til, og dette 2014 J-VM kunne være et rigtig godt afsæt for flere succesfulde år fremover.
På finaledagen vil mange hold kæmpe hårdt for at blive i top 10. Seresultatlistenher.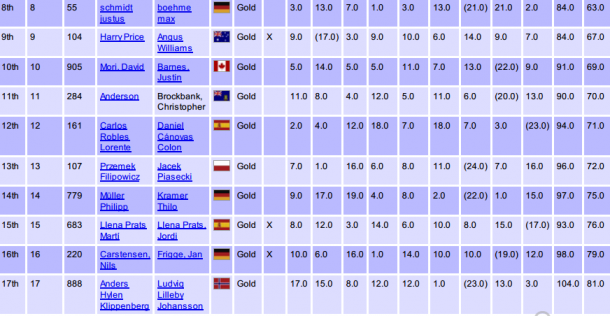 Dette er de ti hold, som kæmper om de tre sidste pladser i 49er klassen. Som man kan se, har alle hold leveret præstationer i enten top 3 eller som en af de 3 sidste i kapsejladserne. Så det er blot op til et par stykker af disse hold at sejle nogle gode løb og derved bringe sig selv i finalen. Alle hold er i stand til dette, men hvem vil tage udfordringen op?
I 49erFX klassen har Ida Marie Baad Nielsen og Marie Thusgaard Olsen muligheden for at lukke kapsejladsen før selve finalen, hvis de formår at levere et par gode sejladser. Pigerne er dog skarpt forfulgt af fire andre hold, som ligger lige bag dem, og som er parate til at gribe chancen for at tage føringen, hvis noget skulle gå galt på det danske hold. Om ikke andet vil kampen om 2. og 3. pladsen blive hård i forfølgergruppen. Da top 10 i medaljesejladsen kun er for kvindelige sejlere, betyder det, at hold 666 og 999 ikke vil være at finde. Det betyder derfor også, at vi vil se flere kvindelige hold få chancen for at deltage i finalesejladsen.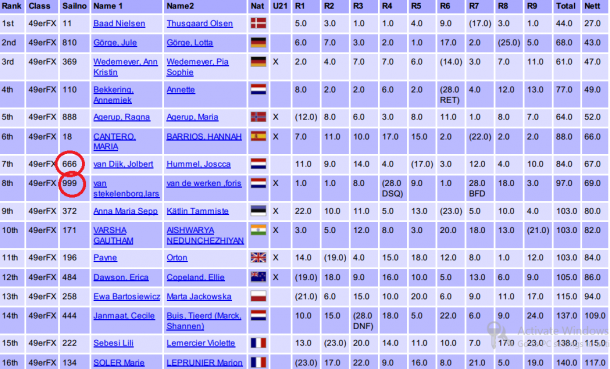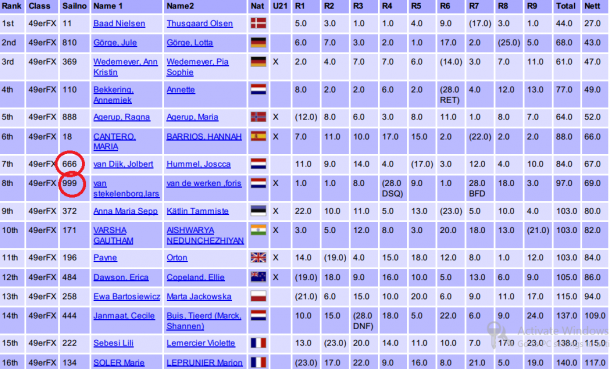 Der er nok at kæmpe om, når vi kommer til finaledagen ved 2014 Junior Verdensmesterskaber. Følg løbet på fb/49ersailing, hvor vi vil offentliggøre optagelser umiddelbart efter hvert løb. Derudover vil vi endnu engang have dronen flyvene ved "theatre style" sejladserne.
Følg 2014 SEIKO 49er og 49erFX Junior World Championship og se resultaterne på www.sailing-aarhus.dk eller på Facebook
2014 SEIKO 49er og 49erFX J-VM arrangeres af Sejlklubben Bugten og Aarhus Sejlklub i samarbejde med Sailing Aarhus, Aarhus Kommune, Sport Aarhus Events og Sport Event Denmark og sponsoreres af SEIKO, Harboe Bryggeri, Böklunder, Pantaenius, Dinghy Shop Danmark og Key West.