Back to overview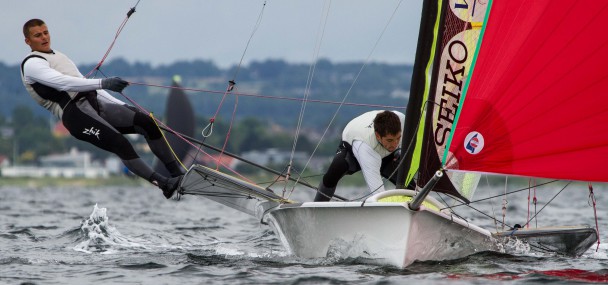 Spænding i toppen af begge klasser efter 2. dag
Vejrforholdene på anden dag af 2014 SEIKO 49er & 49erFX J-VM var stort set de samme, som på førstedagen; jævn fralandsvind med vindstød fra skiftende retninger, som holdt sejlerne på tæerne.
Det altoverskyggende mål for dagens 49er sejladser var at sejle sig i top 25 og dermed kvalificere sig til morgendagens guldsejladser, som afvikles de sidste to dage af J-VM. Da 49erne gik på vandet i morges, talte feltet 44 joller, som sejlede i to hold – et blåt og et gult.
I det blå felt befandt de spanske talenter Botin & Turrado sig. Deres anden dag på vandet mindede også til forveksling om førstedagen, og de formåede således at bibeholde deres 2. plads med en top 10 og to top 3 placeringer i dagens tre sejladser. Ligeledes formåede de danske Lübeck brødre at fastholde deres tredjeplads med placeringer som henholdsvis nr. 13, 3 og 1. Til at runde top 5 af efter andendagens 49er sejladser, finder vi et andet søskendepar, de italienske Savio brødre.
I det gule 49er felt kunne et andet spansk hold, bestående af Paya og Del Arco, nyde indtagelsen af en foreløbig førsteplads efter tre flotte nummer 2 placeringer i dagens tre kapsejladser. Alt imens vinden på Aarhusbugten var lunefuld og uforudsigelig, forblev den spanske duos præstation stabil, og dét lønnede sig. Førstedagens New Zealandske overraskelse havde til gengæld en anderledes hård andendag, men forbliver dog stadig en faktor i finaleopløbet på trods af en nedslående 19. plads i dagens sidste sejlads.
Samtlige af ovennævnte hold fra top 5 har få point og har dermed positioneret sig lunt og godt til morgendagens guldsejladser. Der er med andre ord lagt op til en spændende dag på vandet i morgen, når 49erne indleder kampen om guldet, der afgøres tirsdag.
De 25 49er finalister skal dyste i tre sejladser på tredjedagen, yderligere to på tirsdagens finaledag og umiddelbart herefter atter tre sejladser af typen theatre style, så der stadig langt til toppen af podiet, og meget kan endnu nå at ske, før guldmedaljerne hænges om årets 49er J-VM vindere.
Samtlige af ovennævnte hold i top 5 har få point og har dermed positioneret sig lunt og godt til morgendagens finalesejladser. Der er med andre ord lagt op til en spændende dag på vandet i morgen, når 49erne indleder kampen om guldet, der afgøres tirsdag.
49erFxerne i hård konkurrence på 2. dag
I 49erFX feltet viste favoritterne ved dette års J-VM storform og lukkede således andendagen med en tætpakket top tre efter megen dramatik og spænding. Alt lod tilsyneladende til at flaske sig i dagens første to sejladser for henholdsvis de danske darlings Ida Marie Baad Nielsen og Marie Thusgaard Olsen, hollandske Annemiek Bekkering og Annette Duetz og de tyske Gorge søstre, som havde hver deres plads at forsvare i top 3. Dagens tredje og sidste sejlads bød imidlertid på to forseelser, som fik indflydelse på dagens endelige resultat i toppen af feltet.
Der opstod et stort venstre vindskifte I tredjesejladsens første opløb, som kun de hollandske formåede at udnytte, hvilket tjente dem en samlet førsteplads og dermed sendte det danske hold til tælling. Dog overskred hollænderne startlinjen ved sejladsens begyndelse og endte således med til sidst at måtte trække sig fra dagens sidste sejlads. Denne forseelse kostede de hollandske piger den korte fornøjelse af førstepladsen og skubbede dem i stedet ned på en samlet fjerdeplads, hvorimod Ida Nielsen og Marie Olsen endte tilbage i front. Samtlige implicerede i dagens tabelrokeringer har imidlertid fået samlet sig en høj score efter andendagen, som kan vise sig at spænde ben under morgendagens sejladser.
Således slutter andendagens 49er og 49erFX J-VM kapsejlads på spændende og dramatisk vis, og der skal lægges kræfter og stor koncentration på vandet hos samtlige hold i begge lejre i morgen, hvis håbet om medaljer på tirsdag skal indfries.
Følg 2014 SEIKO 49er og 49erFX Junior World Championship og se resultaterne på www.sailing-aarhus.dk eller på Facebook
2014 SEIKO 49er og 49erFX J-VM arrangeres af Sejlklubben Bugten og Aarhus Sejlklub i samarbejde med Sailing Aarhus, Aarhus Kommune, Sport Aarhus Events og Sport Event Denmark og sponsoreres af SEIKO, Harboe Bryggeri, Böklunder, Pantaenius, Dinghy Shop Danmark og Key West.