Back to overview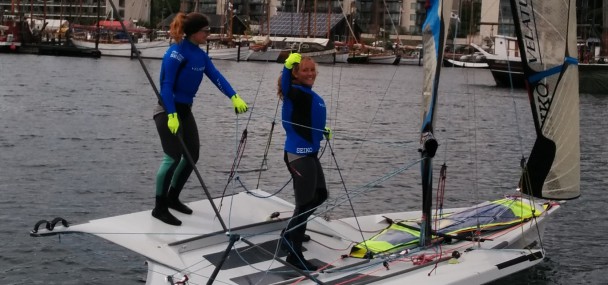 Dansk dominans efter 1. kapsejladsdag i 49er og 49erFX J-VM
Stille regn bød sejlerne velkommen til 2014 SEIKO 49er og 49erFX J-VM's første kapsejladsdag. Trænere og Race Officers var bekymrede for, om 49ernes farverige sejl ville komme til at pryde Aarhusbugtens vande, men det danske vejr artede sig, og til alles fulde tilfredshed blev alle førstedagens sejladser afviklet til tiden.
Vejrforholdene bød på fralandsvind, fladt vand og let vind fra skiftende retninger. Den lette vind efterlod sig imidlertid intet mønster, så holdene var nødsaget til at udsøge sig lige baner og arbejde med det, de nu en gang var blevet givet. De første som fandt rytmen var New Zealænderne Jack Simpson og Logan Dunning Beck. Selv var de en smule overraskede over at finde sig selv forrest i 49er feltet efter dagens første sejladser, eftersom dette års 49er J-VM er deres første europæiske bedrift inden for denne bådklasse.
Gennem en varm og solrig sommer, har de to New Zealænderne haft lejligheden til at træne hver dag sammen med deres landsmænd, og man må sige, at dette har båret frugt.
Spanierne Diego Botin og Pablo Turrado havde også godt vind i sejlene i dagens sejladser. Efter en første sejlads som nummer otte neglede de førstepladsen i de to efterfølgende og kunne dermed slutte dagen på en foreløbig andenplads. De skiftende vindforhold lod ikke til at forstyrre deres vinderkurs synderligt. Det spanske hold besøgte også Aarhus ved sidste års EM og kan således bekræfte udfordringen ved kapsejlads på Aarhusbugten, når vinden kommer inde fra byen. Dog var dagens udfordring en ganske anden i forhold til de store bølger, som sidste uges Kieler Woche havde at byde på, så mange af 49erne var glade for kun at have den skiftende vind at bekymre sig om.
De danske Lübeck brødre, Mads Emil og Christian Peter havde også en god første dag. Som nummer ét i første sejlads og en efterfølgende 8. og 4. plads kunne de gå på land som nummer tre i det samlede klassement, og tilfredsheden var da også til at få øje på, da vi mødte dem umiddelbart efter sejladserne. Noget tyder på, de to københavnske drenge befinder sig godt i danske farvande og i 49er klassen.
Foreløbig dansk førsteplads i 49erFX feltet
49erFX feltet måtte vente et par timer med at komme på vandet til 49erne var færdige, men kunne så til gengæld nyde godt af vinden som havde bygget sig op I løbet af dagen. De lokale favoritter, Ida Marie Baad Nielsen og Marie Thusgaard Olsen lagde ud ved dagens sejlads, som de sluttede sidste års EM; forrest i feltet. Men det var lige før, det var gået helt anderledes! Marie vågnede tidligt i morges med smerter i skulderen, som var så tilpas stærke, at en tur på hospitalet var nødvendig blot 1 ½ time før start. Undersøgelser viste imidlertid ingenting, så efter indtagelse af et par smertestillende piller, trak Marie i arbejdstøjet og tog sammen med sin makker, Ida, på vandet med resten af 49erFX feltet. Efter dagens første tre sejladser og en imponerende score på henholdsvis 5, 3 og 1, kan de to piger hvile ud efter førstedagen på en førsteplads.
Også Hollænderne Lars van Stekelenborg og Foris van de Werken havde en god første dag på Aarhusbugten. Foris van de Werken har sejlet 49erFX i blot et år, hovedsageligt sammen med Nina Curtis, og Lars har først lige taget hul på 49erFX klassen efter at have været hjemmevant inden for 470er. Sammen vandt de dagens første to sejladser i mix kategorien og sluttede på en samlet andenplads. I alt 6 mix hold stiller op ved dette års J-VM, et antal, som klassen håber på at kunne udbygge i løbet af de kommende år.
På tredjepladsen finder vi de danske guldpigers måske største rivaler ved 2014 SEIKO J-VM; hollænderne Annemiek Bekkering og Annette Duetz. På trods af en dårlig start gennemførte de dagens resterende to sejladser på en andenplads. Annette Duetz kan fejre 21 års fødselsdag i morgen, og mon ikke hun håber på at det fødselsdags-festmåltid sammen med venner og familie, hun ofrer for at kunne deltage i stævnet, vil betale sig ved morgendagens anden kapsejladsdag.
Planen for andendagens kapsejlads ligner til forveksling den første. 49erne går på vandet først, og herefter er det atter 49erFXernes tur. Sidst på dagen vil 49er feltet dele sig op i to; en guld og en sølv klasse, hvoraf de 25 bedst placerede hold vil slutte sig til den første gruppe.
Følg 2014 SEIKO 49er og 49erFX Junior World Championship på www.sailing-aarhus.dk eller på Facebook
2014 SEIKO 49er og 49erFX J-VM arrangeres af Sejlklubben Bugten og Aarhus Sejlklub i samarbejde med Sailing Aarhus, Aarhus Kommune, Sport Aarhus Events og Sport Event Denmark og sponsoreres af SEIKO, Harboe Bryggeri, Böklunder, Pantaenius, Dinghy Shop Danmark og Key West.