Back to overview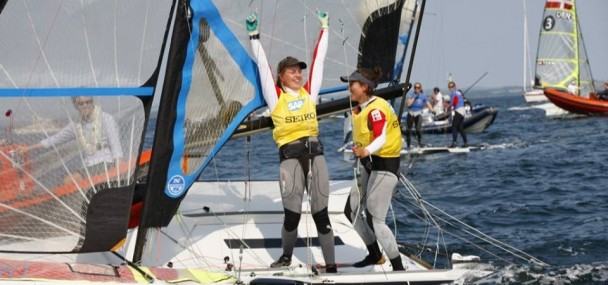 Aarhusianske heltinder vandt EM-guld
Ida Marie Baad Nielsen og Marie Thusgaard Olsen holdt fast i deres føring og vandt europamesterskabet i 49erFX.
Kvindernes tre finalesejladser blev sejlet søndag eftermiddag ud for Aarhus Lystbådehavn, der i dagens anledning var fuldstændig forvandlet. Molen var fyldt med tilskuere, der var kommet for at støtte de danske sejlere i deres jagt på medaljer.
Og sikke en støtte, de stod bag, og sikke nogle sejladser, de fik overværet.
Som ventet bød de kun 10 minutter lange finalesejladser på spænding fra det første trut fra dommerbådens horn.
I første sejlads fik de to danske kvindelige besætninger Ida Marie Baad Nielsen og Marie Thusgaard Olsen samt Jena Mai Hansen og Katja Salskov-Iversen en fin start, men formåede ikke at fange den fordelagtige vind på den højre side af banen.
Danskerne fik aldrig kontrol over begivenhederne i sejladsen, som resulterede i en 6. plads til Team Nielsen og Olsen, mens Team Hansen og Salskov-Iversen sluttede på en syvendeplads.
Heldigvis for de danske vinderchancer kunne hjemmebanefavoritterne Ida og Marie se de nærmeste konkurrenter, brasilianerne Martine Grael og Kattena Kunze, slutte på en næstsidsteplads, og danskerne kunne på trods af den dårlige sejlads se deres forspring vokse til 15 point.
Greb fat i medaljerne 
I anden sejlads sikrede Ida Marie Baad Nielsen og Marie Thusgaard Olsen sig en fantastisk start på midten af linjen og rundede til stor jubel blandt den store flok tilskuere på molen topmærket som etter.
Det lynhurtige 49erFX-par viste klassen og fik den ene svære manøvre efter den anden til at se særdeles let ud. Ida Marie Baad Nielsen og Marie Thusgaard Olsen beviste i anden sejlads, at de i øjeblikket er verdens bedste i kvindernes 49er.
De vandt flot sejladsen og kunne glæde sig over et 17 points forspring til den nærmeste konkurrent. EM-guldet var hjemme.
Jena Mai Hansen og Katja Salskov-Iversen viste også imponerende takter i anden sejlads, hvor de med en stort set fejlfri præstation sluttede på en flot tredjeplads. Dermed hoppede de samtidig op og greb fat i de eftertragtede bronzemedaljer.
Desværre formåede de ikke at holde fast i bronzen efter et ekstremt tæt løb i tredje og sidste finale-sejlads.
De danske piger sluttede på en fjerdeplads i sejladsen, og den første melding var, at bronzemedaljerne var i danske hænder. Det viste sig ikke at holde stik,  og det bliver i stedet Alexandra Maloney og Molly Meech fra New Zealand, som får overrakt bronzemedaljerne. 

Ida Marie Baad Nielsen og Marie Thusgaard Olsen fik en dårlig start på den sidste finale-sejlads, men kæmpede sig op og sluttede femmer. Den halvlunkne sejlads ændrer dog ikke på det faktum, at de to aarhusianske sejlere nu kan kalde sig europamestre i 49erFX.
"Det er fantastisk. Vi har aldrig prøvet at have så mange tilskuere til vores sejladser. Der var så mange, der klappede og støttede os hele vejen," siger skipper Ida Marie Baad Nielsen.
"Vi kunne høre dem hele vejen – især da vi rundede etter. Det var helt vildt," siger gast Marie Thusgaard Olsen med et stort smil.
Warrer og lang sluttede femmer 
Jonas Warrer og Peter Lang endte ikke på podiet til 2013 SAP 49er European Championship i Aarhus.
Med en 6. og 5. plads i de to første af søndagens finalesejladser var der pludselig rigtig lang vej til medaljer for det ellers stærke danske makkerpar. I tredje og sidste sejlads viste de dog klassen foran hjemmepublikummet, da de fangede de altafgørende vindstød i den drilske søbrise og sluttede på en andenplads.
Det flotte resultat i den sidste finalesejlads var ikke nok til at sikre Jonas Warrer og Peter Lang EM-medaljer. Men det var virkelig tæt på. Det danske hold havde således kun et point op til tyskerne Erik Heil og Thomas Ploessel på tredjepladsen.
2013 SAP 49er European Championship er slut. Det næste store stævne, der venter 49er-sejlerne er VM i Marseille, Frankrig, i slutningen af september.