Back to overview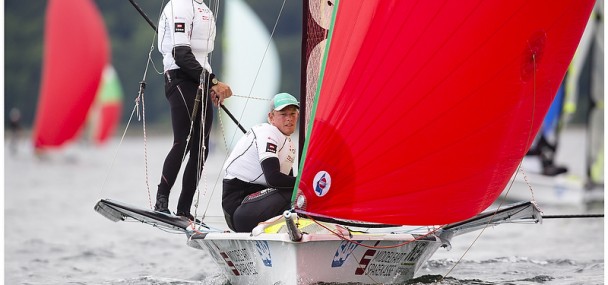 Svingende dag for herrerne under EM
De danske herrer havde svært ved at leve op til de danske kvinders flotte resultat tidligere på dagen. Jonas Warrer og Peter Lang er dog stadig med i ræset om medaljer.
De engelske kommentatorer fra live-dækningen var ikke i tvivl inden dagens sejladser for mændene i guldfeltet. De danske både måtte have et lokalkendskab og derved en større fordel.
Det lignede, at kommentatorerne ville få ret i forbindelse med første sejlads. Jonas Warrer og Peter Lang virkede ivrige efter at revanchere sig fra gårsdagens diskvalifikation. Med et par stabile krydsben sluttede de som nummer tre. Lige efter kom Allan Nørregaard og Anders Thomsen som nummer fem.
Det vakte jubel blandt de fremmødte tilskuere, som havde udnyttet det gode vejr til at se verdenseliten dyste om titlen ved 2013 SAP 49er & 49erFX European Championship ved Aarhus Lystbådehavn.
Men jublen rakte ikke længere end til anden sejlads, hvor de danske herrer var langt nede. Især starterne vakte bekymring hos den danske skiff-træner Peter Hansen. De var simpelthen ikke gode nok, mente træneren. Jonas Warrer og Peter Lang fik dog sejlet sig op og endte nier.
Afgørende opkryds
Med springende vind blev tredje sejlads ikke lettere for danskerne. De kom ikke ud af starthullerne og kæmpede for at følge med de førende både. Oftest blev første opkryds afgørende for resten af sejladserne, og i tredje sejlads var danskerne sat af. Generelt var det i dag svært at sejle sig op på den korte bane. Jonas Warrer og Peter Lang kom ind på en 23. plads, mens Allan Nørregaard og Anders Thomsen blev andensidst.
Det resultat skabte spænding på tilskuerrækkerne, da Allan Nørregaard og Anders Thomsen pludselig var faretruende tæt på at ryge ud af top 16. Skillelinjen for morgendagens guldfelt.
Danskerne fik dog styr på nerverne i fjerde og sidste sejlads. Allan Nørregaard og Anders Thomsen lå top fem hele sejladsen igennem, men den helt store overraskelse kom fra Jonas Warrer og Peter Lang. Efter at have været langt nede tog de på sidste krydsben et dejligt hug ud mod venstresiden, hvilket gav dem et stort løft og sendte dem op på andenpladsen. Den stilling holdt de hele vejen til mål, mens Allan Nørregaard og Anders Thomsen blev femmer.
Lübeck-brødrene sluttede som nr. 18 og missede dermed den direkte adgang til semifinalerne i morgen.
Semifinalerne sejles i morgen, lørdag, mens finalerne finder sted søndag.
5. Jonas Warrer og Peter Lang: 3,9,23,2
12. Allan Nørregaard og Anders Thomsen: 5,31,29,5 
18. Mads Emil Lübeck og Christian Lübeck: 8,15,19,28