Back to overview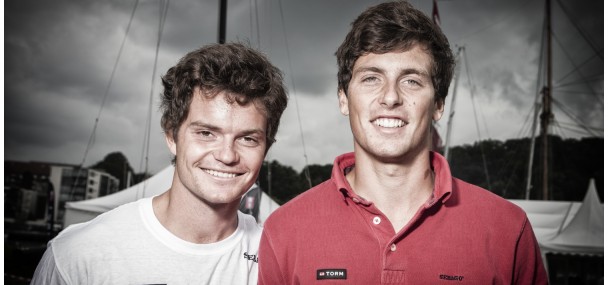 Unge løver klarer cuttet
Det var to glade brødre, vi mødte på havnen efter andendagens fire gennemførte sejladser. Mads Emil og Christian Lübeck har i dag haft en flot serie på 9,7,4,14 hvilket placerer dem som nummer 23 til SAP 2013 49er & 49erFX European Championship.
Det betyder, at brødrene skal sejle i guldfeltet resten af ugen, men vigtigst af alt, så har de sikret sig økonomisk støtte til VM senere på året. Dansk Sejlunion satte inden stævnets start en økonomisk skillelinje ved top 25. Hvis man havnede uden for, måtte man selv til lommerne.
Derfor var sejladserne i dag afgørende, siger skipper Mads Emil Lübeck:
"Vi er virkelig glade og lettede. Det betyder så meget for os, da vi ikke har så mange penge at gøre godt med."
Placeringen og den økonomiske støtte har samtidig givet de unge brødre selvtillid for resten af stævnet, og nu kan der sejles mere frit.
Blod på tanden
"Konkurrenterne i dette felt er i verdensklasse, og det har givet os blod på tanden, når vi kan se, at vi kan sejle lige op med dem," siger Mads Emil Lübeck.
Men drengene har dog ikke lagt sig fast på nogen målsætning for resten af stævnet. Lige nu er det glæden ved at have klaret cuttet, som fylder mest, men samtidig kan man godt begynde at drømme, mener de.
"Vi skal have talt med vores træner om målsætningen, men uanset hvad bliver vi rigtig glade, hvis vi slutter i top 16. Det er drømmen, men top 25 er godkendt, fordi det har været vores mål hele tiden," siger de.
De andre danske besætninger har også haft en fornuftig dag på vandet. Allan Nørregaard og Anders Thomsen sejlede sig op fra gårsdagens sejladser og ligger samlet 11. Lige efter følger Jonas Warrer og Peter Lang på en 12. plads.
Jonathan Bay og Christopher Thorsell havde en svær dag på vandet og skal sejle i sølvfeltet i morgen. Med en placering som nr. 36 samlet kan de dog stadig nå at vinde sølvfeltet og avancere tilbage til guldfeltet på fredag.