Back to overview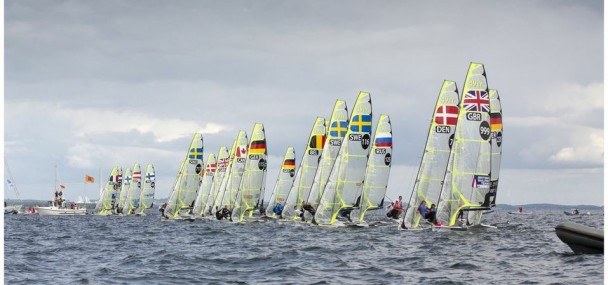 Nu er Bay og Thorsell presset
Jonathan Bay og Christopher Thorsell sejlede sig tilbage i feltet på andendagen under 2013 SAP 49er European Championship og kan på resultatlisten finde sig selv på en 36. plads.
Den danske besætning må derfor forberede sig på at skulle sejle i sølvfeltet i morgen, torsdag, men de har fortsat en chance for at rykke op i guldfeltet.
Det er de 31 bedst placerede 49ere, som i morgen repræsenterer guldfeltet, og det placerer dermed Jonathan Bay og Christopher Thorsell på en samlet 5. plads i sølvfeltet. Vinderen af sølvfeltet vinder en plads i guldfeltet fredag, og Team Bay & Thorsell har kun fem point op til sølvfeltets 1'er, briterne Henry Lloyd Williams og Sam Batten.
Bliver rigtig svært 
Der sejles tre sejladser i sølvfeltet i morgen, og der er dermed gode chancer for at snuppe den yderst vigtige førsteplads i sølvfeltet.
"Men jeg tror, det bliver rigtig svært. Vi skal selvfølgelig sejle vores chance, men nu handler det først og fremmest om at se på, hvad vi kan optimere fra de første to dage," siger Christopher Thorsell, som tydeligvis var skuffet efter dagens fire sejladser.
"Det er super ærgerligt. Vi havde ikke rigtig marginalerne på vores side i dag. Vi har haft en okay stabil serie, men når man sejler i tre felter, så kan man ikke bruge placeringen uden for top 10. Der skal topplaceringer til," siger den 23-årige gast.
Tre danske guld-besætninger 
Tre danske besætninger kvalificerede sig direkte til guldfeltet. Det drejer sig om Allan Nørregaard og Anders Thomsen, Jonas Warrer og Peter Lang samt de to unge brødre Mads Emil og Christian Peter Lübeck.
Nørregaard og Thomsen er placeret på en 11. plads, tæt forfulgt af Warrer og Lang på en 12. plads. Jonas Warrer og Peter Lang var presset før dagens sidste sejlads, men viste klassen og vandt sejladsen.
Tobias Hemdorff og Søren W. Kristensen er den mest uerfarne danske besætning blandt mændene, og det har indtil nu også afspejlet sig ude på vandet. Besætningen er således at finde som nr. 73 på resultatlisten, der tæller 90 aktive besætninger.
Se resultaterne her: http://49er.org/wp-content/uploads/2013/06/49er-Male.htm
Dagen i morgen bliver vigtig. Især for Jonathan Bay og Christopher Thorsell, som skal bevise, at de hører hjemme i guldfeltet.