Back to overview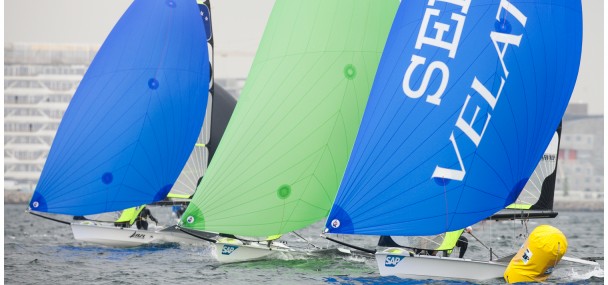 "Kiwierne ligner vindere"
De fleste tog på vandet dagen før 49er-EM til practise race. Sådan var det ikke med det den aarhusianske sejler Jonas Warrer, der blev i land og blandt andet hyggede sig med hustruen og to børn.
Den 34-årige sejler tror nemlig på, at man ikke skal stresse på havnen før et stævne starter. en metode, som han lærte op til OL i 2008, hvor han vandt OL-guldmedaljer med Martin Kirketerp.
– Det er godt at komme lidt væk og tænke på noget andet en sejlads, man kan godt få stress af at være i miljøet for tidligt og det er da fint at få stress, når man skal præstere, men hvis man stresser hele tiden bliver det for meget, derfor er det vigtigt at lade op før et stævne, siger Jonas Warrer, der ikke virker stresset da hans små børn spurter forbi os på havnefronten i Aarhus Ø efter EM i 49er er åbnet.
Danskerne tager sølv
Sportschef Thomas Jacobsen mener ikke, at Jonas Warrer og gasten Peter Lang er favoritter til at vinde EM, den plads er givet til de newzealandske OL-sølvmedaljevindere.
– Warrer og Lang har medaljepotentiale, men de er ikke favoritter til at vinde EM, de er dog den mest rutineret danske besætning vi har for tiden, de er gode til alle facetter af spillet, men lige nu ligner kiwierne vinderne, siger Thomas Jacobsen, der ikke har gjort specielt meget for at de ni danske hold i 49er for mænd og 49erFX for  kvinder, der sejler med frem til på søndag.
– Jeg skal ikke sige noget nu til sejlerne, de skal passe deres rutiner, jeg er jo ikke som håndboldens Ulrik Wilbæk, der giver en peptalk før et mesterskab, jeg skal ændre noget på stævnedagen, siger Thomas Jacobsen, der ikke lægger meget i, at EM sejles på hjemmebane.
– Man kan selvfølgelig sove i sin egen seng, det jeg tror som er vigtigt er at alle de danske besætninger giver den fuld gas, de sejler ikke med for at få erfaring eller de tager EM, som et skridt på vejen, de sejler for at vinde, de har deres nyeste sejl på, siger Thomas Jacobsen, mens osen står op fra den helstegte pattegris, der ser helt færdig ud.
Kvinderne er jokere
Da vi spørger om den aarhusianske besætning Ida Marie Baad og Marie Thusgaard Olsen, kan vinde medaljer på hjemmebane, er svaret mere lunkent, fra sejlernes sportschef fra Dansk Sejlunion.
– Det er enormt svært at vurdere fordi 49erFX er en helt ny olympisk klasse, men jo mere vind jo bedre, for der har Ida og Marie gode manøvre, men de kan blive alt fra nummer et til nummer ti, siger sportschefen om den danske besætning, der efter vores vurdering vil ende i top tre, med mindre der opstår skader, som der skete for en Hellerup-besætning, som under practiscerace i går, ødelagde deres sværd (der sidder under båden, red.),  så Jena Mai Hansen og gast måtte udgå, da båden gik i stå, da sværdet nærmest satte sig på tværs af båden. Selv ser Jena Mai Hansen ikke sig selv som vinder, men hun mener at Aarhus-holdet kan vinde.
– Jeg giver dem fifty-fifty chancer for at vinde, sammen med et newzealandsk hold, der virkelig ser stærke ud, da de har trænet i Europa siden februar, forklarer Jena Mai Hansen, der lige var ved at teste nye solbriller, som Dansk Sejlunion delte ud.
Cheftræner i Aarhus: De er professionelle
Finn 'Beton' Jensen, cheftræner i Kraftcenter Aarhus, ser positivt på Ida Marie Baad og Marie Thusgaard Olsen muligheder ved EM.
-De lever meget professionelt, de er ved at forstå at man skal være skemalagt med den rigtige kombination med skole, sejlads og fysisk træning.
Skrevet af Troels Lykke minbaad.dk