Back to overview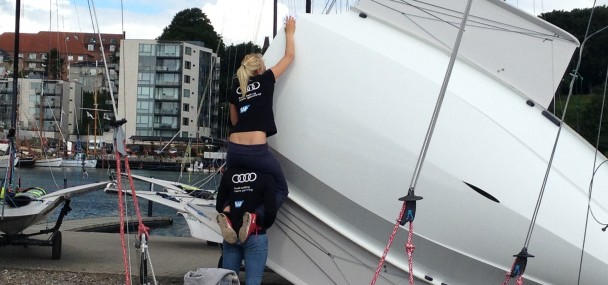 Mærk intensiteten før årets start
Den tunge hip-hop musik brager ud af højtalerne i de danske sejleres trailer. Den sidste time inden starten på SAP 49er European Championship bliver brugt på opladning.
Sportsfolk har forskellige rutiner inden de skal i kamp. Det samme gør sig gældende på havnen i Aarhus. Der er en pirrende og intens stemning blandt sejlerne, mens de gør sig klar til at gå på vandet til første dag under mesterskaberne.
En tysk besætning er frustreret, mens de rigger båden til. Faldet på masten, som holder sejlet oppe, driller. Gasten udbryder i et tysk "scheiße" efterfulgt af et opgivende suk. Det tekniske aspekt er vigtigt for sejlerne. Både praktisk, men især også psykologisk. Man skal have styr på ens grej, da det ofte er marginaler, der er afgørende for en topplacering.
Kreativ polering
Længere nede af bådpladsen har flere sejlere rejst båden på højkant. Båden skal have en sidste polering inden dagens sejladser. En pigebesætning er allerede i gang. Skipperen sidder på skuldrene af gasten for at nå den øvereste del af båden. Med vægten af styrmanden på sine skuldre går gasten i små skridt til siden, mens skipperen med en hvid klud polerer skroget. Forberedelse er nøglen til succes.
I den danske lejr har sejlerne delt sig op. Nogle er gået i gang med at få den stramtsiddende våddragt på, mens andre trækker tiden lidt endnu. Mange af sejlerne ønsker ikke at have gårsdagens fugtige våddragt på alt for tidligt. Tunge regnbyer raser over bådpladsen og derfor ønsker flere af sejlerne at holde sig i varme lige til det sidste.
Andre sejlere går en lang tur på molen. De ænser ikke hinanden, da de fleste går med hovedet foroverbøjet og med høretelefoner på. Man har fokus på sig selv først og fremmest. Tiden skal bruges fornuftigt, inden sejlerne går på vandet.
Solen bryder et kort sekund frem fra de mørke skyer. Et starttegn for de fleste sejlere, som langsomt bevæger sig ned på jollerampen. Med så mange både står sejlerne i kø for at komme ud af havnen. Et sidste blik og en kæk bemærkning bliver uddelt til konkurrenten,  men de fleste står tavse og venter på at komme på vandet. Koncentrationen er allerede på sit højeste. Mange ugers forberedelse skal give pote. Nu gælder mesterskabet.