Back to overview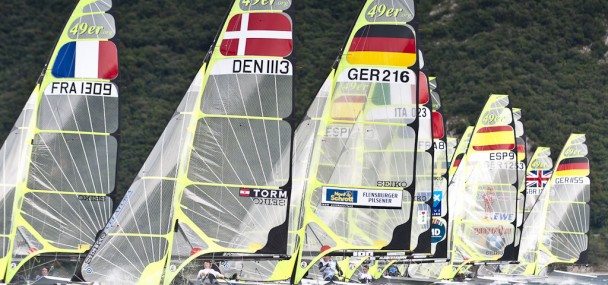 Guide: EM i 49er og 49erFX 2013
Aarhus er fra d. 2-7. juli vært for en af de største og mest seervenlige sejlsportsbegivenheder i 2013 – EM i 49er og 49erFX.
De danske 49er-sejlere er i topform og har med deres store kendskab til de aarhusianske vejrforhold særdeles gode muligheder for at sikre Danmark medaljer til mesterskabet.
Verdens bedste 49er- sejlere samles i Aarhus, og den internationale 49er-klasse kan i fællesskab med sponsorerne Seiko og SAP stolt annoncere, at mesterskabets sidste og mest nervepirrende dage bliver dækket live her på hjemmesiden.
Og det kommer med sikkerhed til at blive en dramatisk kamp på vandet. EM i 49er og 49erFX er den første store begivenhed for sejlerne i deres kampagne frem mod OL i Rio i 2016. Mesterskabet er en oplagt mulighed for at se både de internationale samt nationale konkurrenter an, og blandt de danske sejlere er der i den grad lagt op til en tæt duel mellem især to hold.
Det drejer sig om OL-guldvinder fra 2008 Jonas Warrer, som med sin gast Peter Lang skal op imod OL-bronzevinder fra 2012 Allan Nørregaard og hans gast Anders Thomsen. Begge mandskaber har god fart i båden, og EM-guldet kan meget vel ende hos en af de to hold.
Og det er ikke kun de danske mænd, der sejler hurtigt. Hos kvinderne har Danmark også hold, der har vist sig at være hurtigere end de fleste. Ida Marie Baad Nielsen og Marie Thusgaard vandt i april en stor World Cup-konkurrence på Mallorca, og til samme stævne sluttede Jena Mai Hansen og Katja Salskov-Iversen på en tredjeplads.
Kvinderne sejler 49erFX, som sammenlignet med mændenes 49er har en mindre mast og et mindre sejl. Men på trods af det faktum viser det sig, at FX'eren ofte sejler hurtigere på læns i meget hård vind.
En fantastisk udsigt fra molen
Kapsejladsbanen er placeret tæt på havnen i Aarhus, og det skaber en oplagt mulighed for at følge med i sejladserne på meget tæt hold. Molen ved Aarhus Lystbådehavn er 400 meter lang, og tilskuerne har rig mulighed for at købe både mad og øl samt lytte til musik og følge med live fra de sidste tre dages sejladser på en storskærm. Vi og sejlerne håber at se en masse tilskuere til denne fantastiske begivenhed.
Fra d. 2.-7. juli vil der mellem kl. 11-17 være mulighed for at følge med i sejladserne fra molen. Især lørdag og søndag får tilskuerne en unik chance for at se verdens bedste 49er-sejlere i aktion, når de afgørende sejladser afgøres få hundrede meter fra land.
Mesterskabet sejles fra Aarhus Lystbådehavn, som har adressen: Kystpromenaden 7, 8000 Aarhus.
Tilskuere henvises til Jette Tjikøbs Pl. lige ved siden af "Lighthouse", Aarhus Ø, hvor der på finaledagene vil være storskærme, livekommentering, forfriskninger og sejlads meget tæt på land.
Følg med online
De afgørende sejladser kommer til at foregå fra d. 5.-7. juli, og i de dage kan man følge med hjemme fra sofaen via et live-stream på denne hjemmeside.
5. juli dyster de 32 bedste hold hos mændene i det såkaldte "gold fleet". Hos kvinderne er det de 16 bedste, der skal deltage i de yderst spændende sejladser, der kommer til at vare ca. 20 minutter.
Kapsejladserne starter ved middagstid.
6. juli er det tid til semifinalerne. De 16 bedste hold skal kæmpe om de ni finalepladserne i disse livlige og meget intense sejladser.
7. juli finder finalesejladserne sted. De ni bedste skal kæmpe om medaljerne i "Theatre Style Racing", hvor kapsejladserne kommer til at foregå meget tæt på molen. Dette format er kendt for at skabe ekstra intense sejladser, og der er garanti for fantastisk underholdning.
Program, 7. juli:
Kl. 12 – 49erFX petit finals
Kl. 13 – 49er petit finals
Kl. 14 – 49erFX finals
Kl. 15 – 49er finals
Alle har mulighed for at følge med live på www.49er.org, så sørg for at markere denne fantastiske begivenhed i din kalender. Selve tv-oplevelsen bliver også i en klasse for sig. Live-sendingen bliver med kompetente engelske kommentatorer, og takket være SAP bliver seerne løbende præsenteret for grafikker, der ved hjælp af gps-sendere på jollerne gør det mere overskueligt at følge med i udviklingen af sejladserne.
Afsnit i populær serie
De afgørende sejladser fra Aarhus bliver også optaget og senere vist som et afsnit i tv-programmet Inside Sailing, der vises i over 100 lande. Det 27 min. lange afsnit bliver efterfølgende genudsendt i flere omgange.
Medalje-kandidater
Norregaard and Thomsen – DEN 49er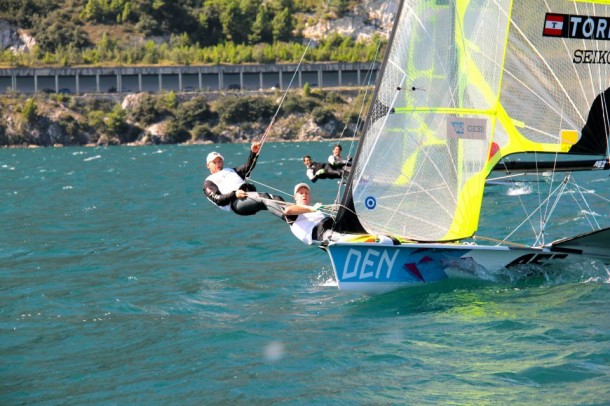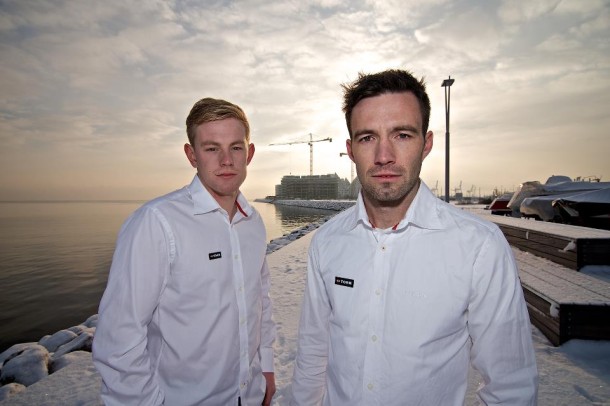 Peter Burling and Blair Tuke – NZL 49er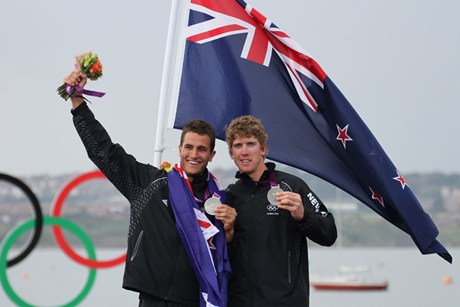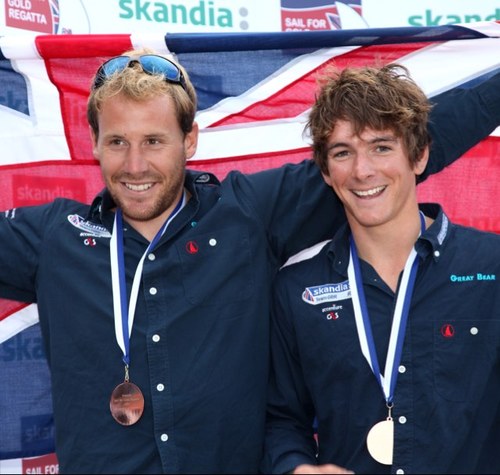 Erik Heil and Thomas Plossel – GER 49er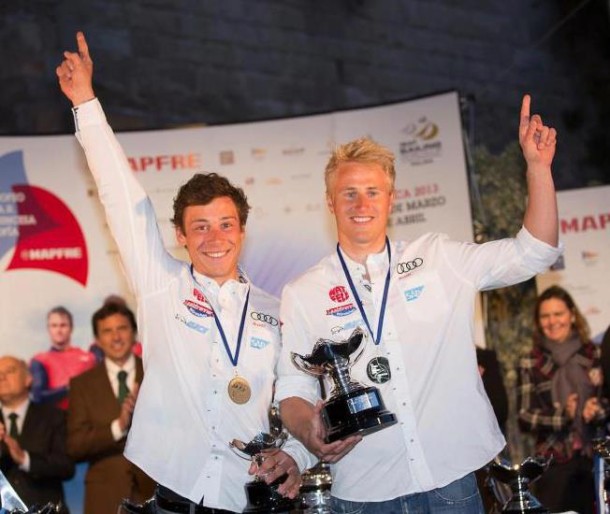 Frei and Rocherieux – FRA 49er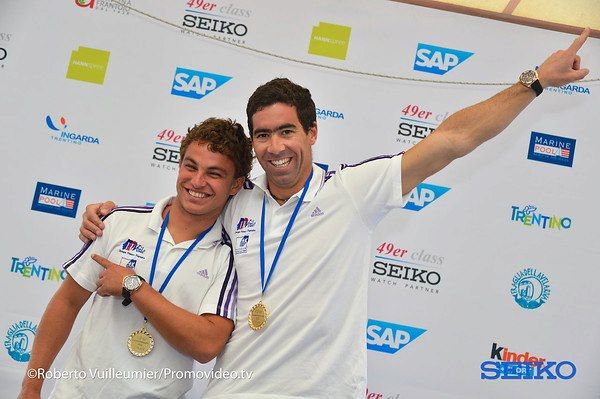 Neilsen and Olsen – DEN 49erFX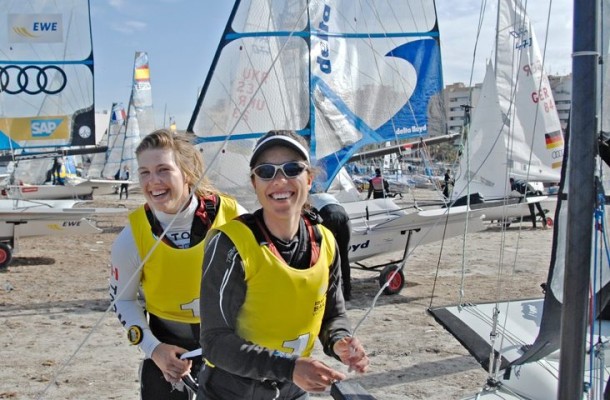 Maloney and Meech – NZL 49erFX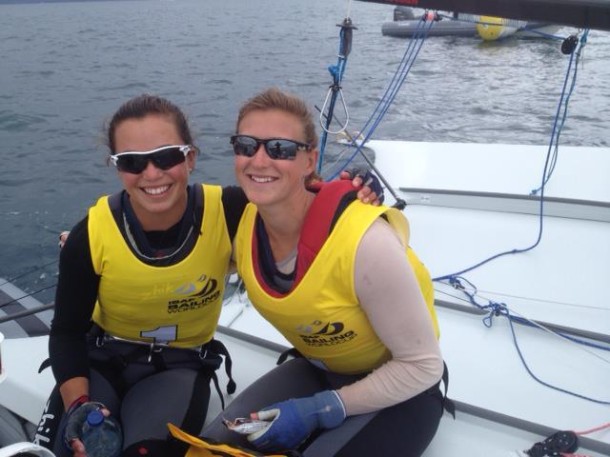 Hansen and Iverson – DEN 49erFX