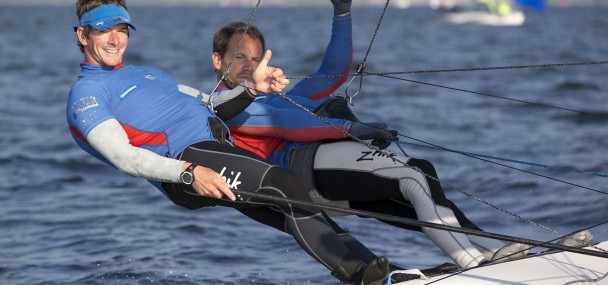 Register yourself now for The Delta Lloyd Regatta!
The 31st edition of the Delta Lloyd Regatta at Medemblik kicks off on May 24th and registration is well under way. Races will start from May 26th until the 30th, Medemblik will be the international gathering of superb sailing. Not only Medemblik, but the entire world will set its focus on the only Olympic and Paralympic sailing event of the Netherlands. The organizers continue focusing on organizing the best competition possible, and ensuring all facilities and on shore circumstances are benefiting the sailors of the Delta Lloyd Regatta. Of course all activities needs to make sure the sailors can perform at its best. The main reasons to participate at the 2015 Delta Lloyd Regatta:
Olympic format conform RIO 2016;
Official Qualifier for the ISAF Sailing World Cup Weymouth;
Live and replay 3D Track & Trace;
International top sailors;
Perfect organized event;
Well-experienced race committees and jury;
The winners of the last edition of the last Delta Lloyd Regatta were Dylan Fletcher and Alain Sign. The ambition of the organization is to get more registrations of our class and organize a strong field to create a world-class event for our sailors.
The entries are rising, and we hope you will join us in this fierce battle. We have realized many innovations over the past few years, like 2D and 3D track and tracing on all boats every day and the development of better facilities by improving race committees, judges and on shore facilities. Therefore we believe the Delta Lloyd Regatta will fit perfectly in your preparations ahead of RIO 2016 and the ISAF Sailing World Cup across Europe.
We really hope to see you during the Delta Lloyd Regatta at Medemblik in May! You can register yourself here. Let us contribute to your development as sailor and the realization of your Olympic dreams!
If you have any question please let us know. For general information: http://www.deltalloydregatta.org/