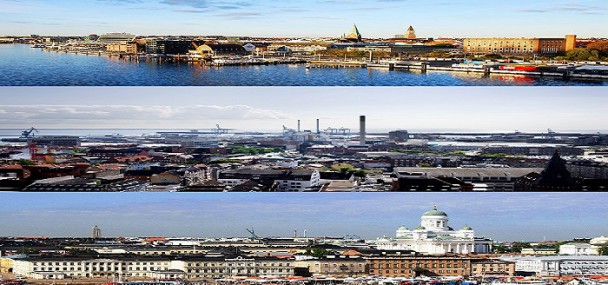 From Kiel --> Aarhus --> Helsinki - logistics and travel tips
Stop by Aarhus on your way to the European Championship in Helsinki and win the 49er and 49FX Junior Worlds' trophy – it is merely a pit stop on your way.
As usual the sailors have a busy race schedule this Summer, and as the table below reveals the races are held relatively close to each other.
| | | | |
| --- | --- | --- | --- |
| Race | Start | End | Location |
| EUROSAF Champions Sailing Cup | | | |
| Kieler Woche | 21/6/14 | 25/06/14 | Kiel (Ger) |
| Junior WC | | | |
| 49er & 49erFX Junior World Championship | 27/06/14 | 01/07/14 | Aarhus (Den) |
| European Championship | | | |
| 49er & 49erFX European Championship | 08/07/14 | 13/07/14 | Helsinki (Fin) |
Especially the young sailors might feel compelled to give up the 49er Junior World Championship in Aarhus in order to make it in time for the prestigious European Championship in Helsinki in the beginning of July.
However, with a little planning and logistics, there is no reason why keen sailors should be prevented from being able to attend all races without having to miss out on preliminary practice and proper preparations for the following race. In fact, Aarhus is merely a pit stop on your way to Helsinki and in this article we will show you how simple it can be done.
From Kiel to Aarhus in less than 3 hours
Getting from Kieler Woche to the Junior Worlds in Aarhus in due time is no problem as the trip takes no more than 2-3 hours by car and offers excellent road conditions the entire distance. Choose the E45 and follow this motorway all the way to Aarhus.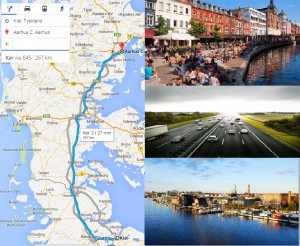 Thus, 49er sailors coming from Kiel to participate in the Junior Worlds in can leave Kiel in the morning and set sail in Aarhus later that very same day.
The possibilities of accommodation in Aarhus are many, and since the World Championship is held in the very heart of the city, you will find everything you need within walking distance of the Competition site.
For more information about accommodation possibilities in Aarhus, please read the article 'Accommodation programme for 49er World Championship'.
Getting from Aarhus to Kiel
The 49er Junior World Championship finals are finishing in Aarhus on Tuesday the 1st of July which gives the sailors exactly 7 days to get from Aarhus to Helsinki before the European Championship begins.
The ways to Helsinki are several, however, regardless of how you prefer to travel, you should expect a time frame of at least 24 hours of travelling from Aarhus to Helsinki unless you travel by plane.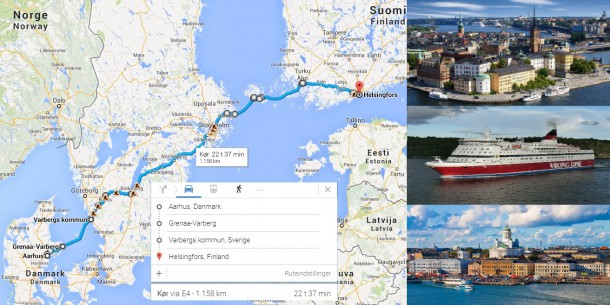 From Denmark to Sweden by boat
As the picture indicates the most comfortable way to travel from Aarhus to Helsinki is by using the ferry to cover some of the distance. Regardless of whether you choose to drive the whole distance yourself, or if you let the ferry cover some ground for you whilst you relax, the travelling span is more or less the same.
The most recommendable solution is described below. Here, you will find relevant information that will ease your journey such as time schedules for the boats, maps of distances, websites and telephone numbers for booking tickets, discount references and estimated travelling time, etc. If you are able to adjust your travelling scheme somewhat to make it fit certain departures Stena Line (Grenaa – Varberg) even offers a ticket discount if you remember to book your ticket ahead.
Alternatively, you may choose to drive to Frederikshavn and take the ferry to Göteborg instead if you prefer to drive instead of taking the ferry. However, there is no discount agreement with this route.
Timetable for Stena Line ferries from Grenaa-Varberg and Frederikshavn-Göteborg Wednesday the 2nd of July: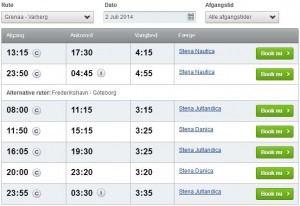 Company: Stena Line
Web site: http://www.stenaline.dk/vores-ruter/grena-varberg
Book your ferry ticket from Grenaa to Varberg: +45 96 200 200
NOTE! Get a special 15 % discount on your Grenaa – Varberg ticket when you book on one of these six departures. The discount is ONLY for 49er Junior Worlds' participants and can be obtained when booking your ticket link by clicking the link below:
Book my ticket at Stena Line now
(NOTE! The booking site is only found in Danish. However, booking your ticket should be fairly easy and straightforward.)
1/7 1.15pm departure from Grenaa – Varberg
1/7 11.50pm departure from Grenaa – Varberg
2/7 1.15pm departure from Grenaa – Varberg
2/7 11.50pm departure from Grenaa – Varberg
3/7 1.15pm departure from Grenaa – Varberg
3/7 11.50pm departure from Grenaa – Varberg
From Varberg to Stockholm in beautiful scenery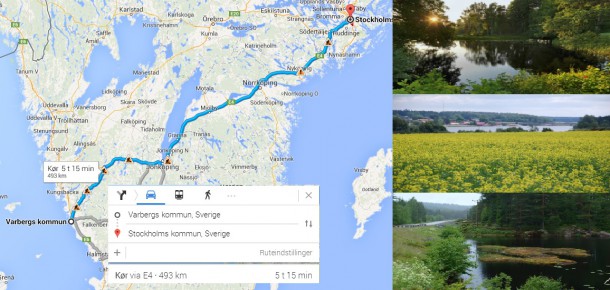 When arriving at Varberg, there is a 5-6 hour drive to Stockholm, where the next ferry awaits that will take you to Helsinki.
As the pictures above reveals, driving through Sweden is quite a beautiful sight with plenty of possibilities to make small pit stops where you can have a break and a snack along the way.
If you choose the afternoon departure from Grenaa to Varberg (1.15pm), you should arrive at Stockholm around midnight. From hereon there is only one hurdle left until you reach Helsinki.
NOTE! Beware of possible taxation on some of the Swedish roads from Varberg to Stockholm. 
From Stockholm to Helsinki with Viking Line Ferries
Viking Ferries will take you take you the rest of your journey from Stockholm to Sweden. However, when you arrive at Stockholm around midnight, a natural break seems like an obvious choice, and since the Ferry leaves at 4.30pm on the 3rd of July you will have time to rest for the night in Stockholm and perhaps even a little bit of sightseeing during the day before heading for the ferry in the afternoon.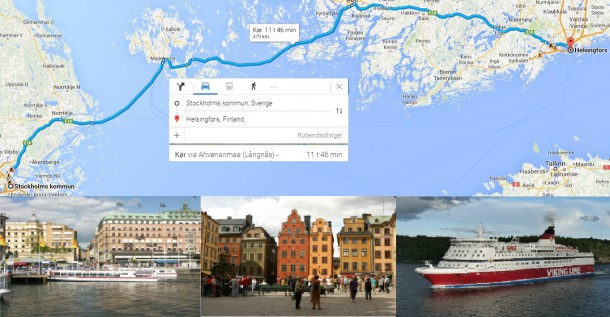 The ferry crossing lasts just below 17 hours, during which you will have time to rest and relax before you arrive in Helsinki at 9.30am the next morning July 4th.
Remember to book your ticket for the crossing at Viking Ferries in order to make sure there is room for you:
Viking Line Website: http://www.vikingline.com/en/Book-and-travel/Private-trips/
Book your ticket: +46 08 452 40 00
Thus, when you arrive at Helsinki you will feel refreshed and ready to prepare for the 49er European Championship the following week.
All in all you will have spent two days travelling from Aarhus to Helsinki without having to rush and still you will have plenty of time to prepare for the European Championship beginning on the 13th of July.