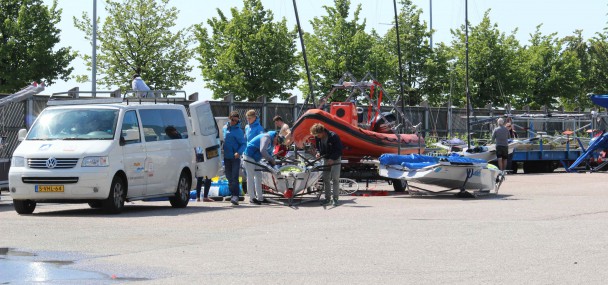 Our Ideal View of the Boat Park in Helsinki
Dear Competitor,
I hope your training for the Europeans advances well. We have tried to give you variable weather and winds to give you an impression of how conditions may be in Helsinki.
We are lucky to have a large boat & car & trailer park but it would be better if we agreed on how to use that space.
My strong recommendation is – as presented graphically on the attached document Boat park:
1. All boats are parked stern to the fence.
2. Big road trailers and cars are parked further south, towards the tip of Hernesaari.
3. Tool boxes and box trailers would be parked closer to the buildings, leaving a safety passage of 6 m as required by the authorities.
I hope we can agree on this.
On another issue:   We operate in rented facilities. The tools and other equipment in the hall is our landlord's property. For this reason we cannot lend you any tools and you cannot just borrow things off the shelves.
Thanks for your understanding,
Event Mangement,
Patrick