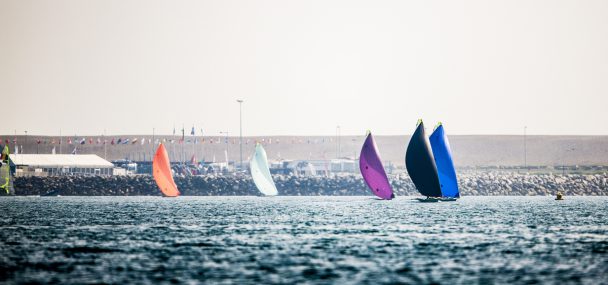 2017 Junior Worlds To Be Contested in Canada
Junior 49er Sailors,
Want to race against the best in the World among your age group? Want to prove that you're the best Under 23 49er/9erFX team out there? Then come race the 2017 49er & 49erFX Junior World Championships in Kingston, Canada!
The International 49er Class will be hosting two back to back championships in Kingston next summer. The first event will be the open 49er & 49erFX North American Championships (100 Ranking Points) from June 23 to June 25. The second event is the 2017 49er & 49erFX Junior World Championships (U23) running June 29 to July 2.
Shipping
With its main logistics partner, the International 49er Class will be coordinating dedicated event shipping to interested teams. The turn-key shipping package will include loading at a main European event (Delta Llyod Regatta in Medemblik, NED) at the end of May, and return to Kiel, GER for the 2017 European Championship. In both cases, the containers will be available for unload approximately 1 week before the events (NA's and Euro's). This is turn-key door to door service including sea freight, customs clearance and terminal handling.
Based on full container loads of 6 teams (boats) per container, return service from Medemblik – Kingston – Kiel is estimated to be$2,950 USD per boat. Teams will be responsible for creating and submitting their own ATA Carnets to the shipping partner. Teams need to be present for load and unload operations at the three regatta sites.
Charters
The International 49er Class, in conjunction with US Sailing and the Oakcliff Sailing Centre, will offer a minimum of 10 charter boats for the top continental finishers based on regatta performance, see table [work in progress]:
Continent
Class
South America
Oceania
Europe
Asia
Africa
Wild Card
49er
Application
World Cup Melbourne
Princess Sofia
Application
Application
Application
49erFX
Application
World Cup Melbourne
Princess Sofia
Application
All interested sailors should apply by submitting their application to JWC@49er.ca . Applications are due January 31, 2017. Charters must be confirmed no later than April 1 (with 14 days grace being offered to Europe). Preferential charter rates for these boats are being offered at a daily rate of USD $150.00, excluding sails.
[This entire charter program needs to be developed further by the class and Oakcliff, so it is work in progress.]
Furthermore, the local fleet will have charter boats available to any / all sailors.
For more information, contact Ben Remocker, benremocker@hotmail.com
JWC Event Website http://49er.org/event/2017-junior-world-championship/
NA's Event Website http://49er.org/event/2017-north-american-championship/
Local Dealer Website http://49er.ca